Analyzing Process Acceptance with IT-Enabled Experimental Research
Volker Nissen

Университет Технологий Ильменау, 29, Ehrenbergstraße, Ilmenau, 98693, Germany

Thomas Müllerleile

Университет Технологий Ильменау, 29, Ehrenbergstraße, Ilmenau, 98693, Germany

Elena O. Kazakova

компания Flexalex

Tatiana A. Lezina

Санкт-Петербургский государственный университет, Российская Федерация, 199034, Санкт-Петербург, Университетская наб., 7–9

https://orcid.org/0000-0001-8323-9436
Аннотация
Положительные результаты, связанные с управлением бизнес-процессами, могут быть достигнуты только в случае инициирования процесса его пользователями и правильного осуществления исполнителями. Бизнес-скандалы в различных областях показали, что компании, а точнее, исполнители бизнес-процессов иногда не следуют заданным стандартам или вообще не осуществляют определенные бизнес-процессы. Отказ от выполнения некоторых бизнес-
процессов может привести не только к понижению показателей деятельности компании, но и к ситуациям, угрожающим жизни людей. Игнорируя официальные регламенты, работники компаний создают, по существу, теневые организации. Внутри компаний появляются неофициальные процессы и теневые ИТ-системы, функционирующие параллельно с официальными. Это, в свою очередь, влечет отсутствие прозрачности, увеличение рисков и затрат, связанных с достижением поставленных целей.
Следовательно, важно понимать, почему работники принимают или игнорируют официальные бизнес-процессы. Этот вопрос требует эмпирического подхода, одним из возможных путей осуществления которого являются полевые исследования в организациях. Такой вариант анализа является весьма дорогостоящим, отнимает много времени и затруднен в связи с необходимостью привлечения значительного числа квалифицированных участников. Кроме
того, существуют определенные методические проблемы эмпирических исследований, посвященных опросам людей, связанных с их сферой ответственности. В статье предлагается новый подход определения степени удовлетворенности новыми бизнес-процессами компании конечными пользователями. Предлагаемая методология по сравнению с классическими исследованиями основана на постановке экспериментов приемки процесса в краудсорсинговой среде, позволяющей объективно исследовать проблему сокращения времени и стоимости бизнес-процессов. Библиогр. 27 назв. Ил. 6. Табл. 3.
Ключевые слова:
принятие процессов, управление бизнес-процессами, измерение удовлетворенности бизнес-процессами, тестирование принятия процессов, краудсорсинговая среда
Скачивания
Данные скачивания пока недоступны.
Литература
Литература на русском языке

References in Latin Alphabet
Alter S. Theory of Workarounds. Communications of the Association for Information Systems, 2014, vol. 10, pp. 1041–1066.
Antunes A. S., da Cunha P. R. Business Processes the Way They Should be: Tuning for Low Friction and Sustainability. Proceedings ECIS 2013. Utrecht, Paper 59.
Baddoo N., Hall T. De-Motivators for Software Process Improvement: An Analysis of Practitioners Views. Journal of Systems and Software, 2003, vol. 66, pp. 23–33.
Baina K., Baina S. User Experience-based Evaluation of Open Source Workflow Systems: The Cases of Bonita, Activiti, jBPM, and Intalio. Proceedings of 3rd International Symposium ISKO-Maghreb. 2013 (DOI: 10.1109/ISKO-Maghreb.2013.6728122).
Bagozzi R. P. The Legacy of the Technology Acceptance Model and a Proposal for a Paradigm Shift. Journal of the Association for Information Systems, 2007, vol. 8, pp. 244–254.
Process Management: A Guide for the Design of Business Processes. Eds. J. Becker, M. Kugeler, M. Rosemann. Berlin, London, Springer, 2011. 596 p.
Behrens S. Shadow Systems: The Good, the Bad and the Ugly. Communications of the ACM, 2009, vol. 52, pp. 124–129.
Bendoly E., Cotteleer M. J. Understanding Behavioral Sources of Process Variation following Enterprise System Deployment. Journal of Operations Management, 2008, vol. 26, pp. 23–44.
Bergkvist L., Rossiter J. R. The Predictive Validity of Multiple‐Item versus Single‐Item Measures of the Same Constructs. Journal of Marketing Research, 2007, vol. 44, pp. 175–184.
Bortz J, Döring N. Forschungsmethoden und Evaluation für Human-und Sozialwissenschaftler. 4 ed. Berlin, Springer, 2006. 811 p.
Churchill G. A. A Paradigm for Developing better Measures of Marketing Constructs. Journal of Marketing Research, 1979, vol. 16, no. 1, pp. 64–73.
Corbin J. M., Strauss, A. L. Grounded Theory Research: Procedures, Canons, and Evaluative Criteria. Qualitative Sociology, 1990, vol. 13, pp. 3–21.
Davis F. D. Perceived Usefulness, Perceived Ease of Use, and User Acceptance of Information Technology. MIS Quarterly, 1989, vol. 13, pp. 319–340.
Dethloff C. Akzeptanz und Nicht-Akzeptanz von technischen Produktinnovationen. Berlin et al., Pabst, 2004. 356 p.
Diamantopoulos A. The C-OAR-SE Procedure for Scale Development in Marketing: a Comment. International Journal of Research in Marketing, 2005, vol. 22, no. 1, pp. 1–9.
Fleischmann A., Schmidt W., Stary C., Obermeier S., Brger E. Subject-Oriented Business Process Management (S-BPM). Berlin, Springer, 2012. 376 p.
Frei F. X., Kalakota R., Marx L. M. M. Process Variation as a Determinant of Service Quality and Bank Performance: Evidence from the Retail Banking Study. Wharton, Report 97-36, 1999.
International Atomic Energy Agency: Report on the Preliminary Fact Finding Mission Following the Accident at the Nuclear Fuel Processing Facility in Tokaimura. Japan, TR., Vienna, 1999.
Kittur A., Chi E. H., Suh B. Crowdsourcing User Studies with Mechanical Turk. Proceedings of the SIGCHI Conference on Human Factors in Computing Systems (CHI'08) . New York, ACM, 2008, pp. 453–456.
Kramp M. Exploring Life and Experience through Narrative Inquiry. Foundations for Research: Methods in Education and the Social Sciences. Eds. K. B. de Marrais, S. D. Lapan. Mahwah, 2004, pp. 103–121.
Lange K., Kühn S., Filevich E. Just Another Tool for Online Studies (JATOS): An Easy Solution for Setup and Management of Web Servers Supporting Online Studies. PLoS ONE, 2015, vol. 10, no. 7. e0134073 [doi: 10.1371/journal.pone.0134073].
London K. R. The People Side of Systems. New York, McGraw Hill, 1976. 281 p.
Lucke D. Akzeptanz: Legitimität in der Abstimmungsgesellschaft. Leverkusen, VS Verlag, 1995. 452 p.
Markus M. L., Keil M. If we Build It, They will Come: Designing Information Systems that People Want to Use. Sloan Management Review, 1994, vol. 35, no. 4, pp. 11–25.
McDonnell J. V., Martin J. B., Markant D. B., Coenen A., Rich A. S., Gureckis T. M.
psiTurk
(Version 1.02) [Software]. New York University, 2012. Available at:
https://github.com/NYUCCL/psiTurk
(accessed: 02.04.2016).
Melao N., Pidd M. A Conceptual Framework for Understanding Business Processes and Business Process and Business Process Modelling. Information Systems Journal, 2000, vol. 10, pp. 105–129.
Müllerleile T., Nissen V. When Processes Alienate Customers: Towards a Theory of Process Acceptance. Proceedings S-BPM One. Eds. A. Nonopoulos, W. Schmidt. Lecture Notes in Business Information Processing (LNBIP) . Berlin, Springer, 2014, pp. 171–180.
Müllerleile T., Ritter S., Englisch L., Nissen V., Joenssen D. The Influence of Process Acceptance on BPM: An Empirical Investigation. Proceedings of the 2015 IEEE 17th Conference on Business Informatics (CBI 2015) , 2015, pp. 125–132.
Müllerleile T., Martinovic D., Joennssen D., Orner M., Grimm M., Nissen V., Reuss H.-C. Fully Charged: Process Acceptance of Different EV Charging Processes. Available at:
https://ssrn.com/abstract=2834600
(accessed: 02.04.2016).
Niazi M., Wilson D., Zowghi D. Critical Success Factors for Software Process Improvement Implementation: An Empirical Study. Software Process: Improvement and Practice, 2006, vol. 11, pp. 193–211.
Nissen V., Müllerleile T. Prozessakzeptanzforschung. Warum manche Prozesse gelebt und andere umgangen werden. Handbuch Dienstleistungsmanagement. Eds. H. Corsten, T. Roth. München, Vahlen, 2016 (accepted). Nguyen H., Dumas M., La Rosa M., Maggi F. M., Suriadi S. Mining Business Processes Deviance: a Quest for Accuracy. Proceedings of "On the move to meaningful internet systems" (OTM 2014). LNCS 8841. Berlin et al., Springer, 2014, pp. 436–445.
Oppenheimer D. M, Meyvis T., Davidenko N. Instructional Manipulation Checks: Detecting Satisficing to Increase Statistical Power. Journal of Experimental Social Psychology, 2009, vol. 45, no. 4, pp. 867–872.
Parasuraman A., Zeithaml V. A., Berry L. L. Servqual. Journal of Retailing, 1988, vol. 64, pp. 12–40.
Reichwald R. Zur Notwendigkeit der Akzeptanzforschung bei der Entwicklung neuer Systeme der Bürotechnik. Technical Report. München, Hochschule d. Bundeswehr, 1978. 55 p.
Ritter S., Müllerleile T., Nissen V. Prozessakzeptanz — Der Schlüssel für gelebte Prozesse. Qualität und Zuverlässigkeit, 2016, vol. 61, no. 6, pp. 38– 41.
Rozinat A., Aalst W. v.d. Conformance Checking of Processes Based on Monitoring Real Behavior. Information Systems, 2008, vol. 33, pp. 64–95.
Rossiter J. R. The C-OAR-SE Procedure for Scale Development in Marketing. International Journal of Research in Marketing, 2002, vol. 19, pp. 305–335.
Rossiter J. R. Measurement for the Social Sciences: The C-OAR-SE Method and Why It Must Replace Psychometrics. Berlin, Springer Science & Business Media, 2010. 186 p.
Strauss L. A. Qualitative Analysis for Social Scientists. Cambridge and New York, Cambridge University Press, 1987. 336 p.
Strauss A. L., Corbin J. M. Basics of Qualitative Research: Grounded Theory Procedures and Techniques. Newbury Park, SAGE, 1990. 400 p.
Tsikritsis N., Heineke J. The Impact of Process Variation on Customer Dissatisfaction: Evidence from the U. S. Domestic Airline Industry. Decision Sciences, 2004, vol. 35, pp. 129–142.
Venkatesh V., Bala H. Technology Acceptance Model 3 and a Research Agenda on Interventions. Decision Sciences, 2008, vol. 39, pp. 273–315.
Wohlin C., Runeson P., Höst M., Ohlsson M. C., Regnell B., Wesslén, A. Experimentation in Software Engineering. Berlin et al., Springer, 2012. 236 p.
Zairi M. Business Process Management: A Boundaryless Approach to Modern Competitiveness. Business Process Management Journal, 1997, vol. 3, no. 1, pp. 64–80.

Translation of references in Russian into English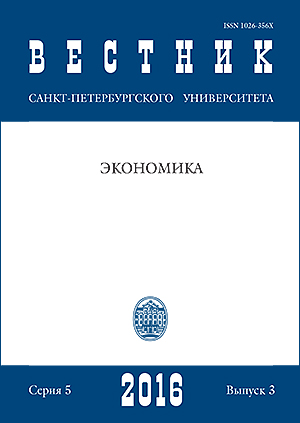 Как цитировать
Nissen, V., Müllerleile, T., Kazakova, E. O., & Lezina, T. A. (2016). Analyzing Process Acceptance with IT-Enabled Experimental Research. Вестник Санкт-Петербургского университета. Экономика, (3), 109 - 129. https://doi.org/10.21638/11701/spbu05.2016.307
Раздел
Экономика фирмы и производственный менеджмент
Статьи журнала «Вестник Санкт-Петербургского университета. Экономика» находятся в открытом доступе и распространяются в соответствии с условиями Лицензионного Договора с Санкт-Петербургским государственным университетом, который бесплатно предоставляет авторам неограниченное распространение и самостоятельное архивирование.