Цифровая трансформация в отраслях обрабатывающей промышленности России: результаты конъюнктурных обследований
Инна Лола

Национальный исследовательский университет «Высшая школа экономики», Российская Федерация, 101000, Москва, ул. Мясницкая, 20

https://orcid.org/0000-0002-0974-8723

Мурат Бакеев

Национальный исследовательский университет «Высшая школа экономики», Российская Федерация, 101000, Москва, ул. Мясницкая, 20

https://orcid.org/0000-0002-3144-2544
Аннотация
Распространение цифровых технологий в экономике изменяет производственные процессы и применяемые бизнес-модели. Связанные с четвертой промышленной революцией технологии, такие как промышленный Интернет вещей и аддитивное производство, оказывают существенное влияние на производственный цикл в обрабатывающей промышленности. В статье с использованием метода конъюнктурных наблюдений, который дополняет методы количественной статистики, выявлены кратко- и среднесрочные предпринимательские мнения и оценки, отражающие ключевые аспекты процесса цифровизации на российских предприятиях. На этой базе с учетом разграничения отраслей обрабатывающей промышленности на низко-, средне- и высокотехнологичные выявлены тенденции развития основных видов цифровых технологий, показан уровень отраслевого участия в цифровой трансформации в форме цифровизации бизнес-процессов и труда, а также раскрыт ряд других важных аспектов цифровых преобразований на предприятиях, не измеряемых количественной статистикой вовсе или измеряемых ею лишь частично. Для всех рассматриваемых отраслей установлены и классифицированы по важности факторы, препятствующие цифровой трансформации. Проведенный авторами анализ результатов опроса руководителей показал существенный разброс предпринимательских суждений относительно большинства аспектов цифровизации производства. Несмотря на то что переход к Индустрии 4.0 происходит в России в рамках относительно неблагоприятного состояния делового климата, полученный срез мнений позволяет заключить, что, хотя уровень погружения обрабатывающих предприятий в процессы цифровизации и не является глубоким, прогресс в этом направлении в ряде отраслей очевиден. Рассмотрение цифровой активности в отраслевом разрезе, а также с учетом классификации отраслей на низко-, средне- и высокотехнологичные позволило выявить отраслевую специфику цифровой трансформации промышленности. В частности, показано, что некоторые технологии, такие как промышленный Интернет вещей, получили преимущественное распространение в средне- и высокотехнологичном сегменте, в то время как другие, такие как 3D-печать и метки радиочастотной идентификации, были представлены в большинстве отраслей обрабатывающей промышленности. К основным перспективным направлениям продолжения исследований цифровой трансформации в российской обрабатывающей промышленности можно отнести расширение программы конъюнктурного наблюдения за счет включения в него других отраслей, разработку соответствующих композитных индикаторов, перекрестный анализ взаимосвязей между экономическими показателями и цифровизацией, форсайт-исследование качественных аспектов цифровой трансформации.
Ключевые слова:
цифровизация, цифровая активность, цифровые технологии, обрабатывающая промышленность, конъюнктурные наблюдения, цифровые инвестиции, цифровая стратегия
Скачивания
Данные скачивания пока недоступны.
Литература
Bieser J. C., Hilty L. M. (2018) Indirect Effects of the Digital Transformation on Environmental Sustainability: Methodological Challenges in Assessing the Greenhouse Gas Abatement Potential of ICT. In ICT4S, pp. 68–81.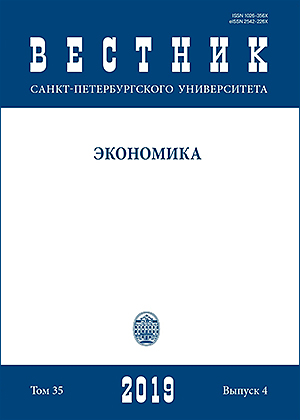 Как цитировать
Лола, И., & Бакеев, М. (2020). Цифровая трансформация в отраслях обрабатывающей промышленности России: результаты конъюнктурных обследований. Вестник Санкт-Петербургского университета. Экономика, 35(4), 628-657. https://doi.org/10.21638/spbu05.2019.407
Раздел
Инновации и цифровая экономика
Статьи журнала «Вестник Санкт-Петербургского университета. Экономика» находятся в открытом доступе и распространяются в соответствии с условиями Лицензионного Договора с Санкт-Петербургским государственным университетом, который бесплатно предоставляет авторам неограниченное распространение и самостоятельное архивирование.