Фреймворк для оценки готовности компании к цифровой трансформации
Аннотация
В настоящее время акцент в дискуссиях о цифровой трансформации сместился с об- суждения ее необходимости на проблемы оценки готовности компаний к цифровым преобразованиям. Для российских компаний, ввиду специфики цифровой трансформации в России, необходима разработка новых и приоритезация существующих критериев готовности. Это требует создания комплексной системы оценивания, включающей множество взаимосвязанных показателей, характеризующих ожидания и стратегические цели компании, качество бизнес-процессов, компетенции и мотивацию сотрудников, зрелость технологической среды компании, управление информационным обеспечением и др. Область, охватываемая данным исследованием, касается совокупности факторов (предпосылок), определяющих готовность российских компаний к цифровой трансформации. Согласно гипотезе исследования, эти предпосылки могут быть систематизированы в виде фреймворка для оценки готовности компании к цифровой трансформации. Цель исследования — спроектировать фреймворк, позволяющий оценить готовность компании, учитывая не только текущее состояние компании, но и ее предыдущее развитие. В работе сформулированы требования к системе оценке готовности, представленной в виде фреймворка, и предложен авторский метод его проектирования в соответствии с требованиями, сочетающий анализ практических кейсов компаний и теоретический анализ современных концепций и лучших практик менеджмента. В результате применения предложенного метода создан фреймворк Digital Transformation Readiness Assessment для оценки готовности компании к цифровой трансформации. Он включает критерии и характеристики готовности, сгруппированные в домены. Фреймворк предназначен для качественной оценки готовности и формирования у менеджмента компании понимания того, что может препятствовать успеху цифровой трансформации.
Ключевые слова:
цифровая трансформация, готовность компании, фреймворк, критерии готовности, оценка готовности
Скачивания
Данные скачивания пока недоступны.
Литература
Deloitte (2019) Deloitte Global Human Capital Trends: Leading the social enterprise. URL: https://www2. deloitte.com/us/en/insights/focus/human-capital-trends.html (accessed: 29.11.2019).
Earley S. (2017), DAMA-DMBOK: Data Management Body of Knowledge. New Jersey, Technics Publications. 621 p.
ISACA (2012), COBIT 5: The Framework. USA, IT Governance Institute.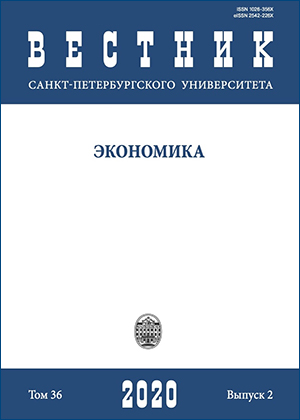 Как цитировать
Стоянова, О., Лёзина, Т., & Иванова, В. (2020). Фреймворк для оценки готовности компании к цифровой трансформации. Вестник Санкт-Петербургского университета. Экономика, 36(2), 243-265. https://doi.org/10.21638/spbu05.2020.204
Раздел
Инновации и цифровая экономика
Статьи журнала «Вестник Санкт-Петербургского университета. Экономика» находятся в открытом доступе и распространяются в соответствии с условиями Лицензионного Договора с Санкт-Петербургским государственным университетом, который бесплатно предоставляет авторам неограниченное распространение и самостоятельное архивирование.