Оценка экономического неравенства в государственно-частных партнерствах в промышленности
Наталья Викторовна Горбачева

Институт экономики и организации промышленного производства СО РАН, Российская Федерация, 630090, Новосибирск, проспект Академика Лаврентьева, 17; Сибирский институт управления — РАНХиГС, Российская Федерация, 630102, Новосибирск, ул. Нижегородская, 617
Аннотация
Набирающий силу тренд обновления роли промышленности ведущих экономик мира актуализирует применение государственно-частного партнерства при реализации капиталоемких, крупных инвестиционных проектов, что предполагает координацию усилий государства и разнообразных субъектов частного сектора и формирует новые принципы взаимодействия между основными игроками. Достижение не только финансовой эффективности, но и баланса экономических интересов становится залогом устойчивости партнерских отношений при большом количестве участников совместной деятельности. Успех партнерства во многом зависит от степени равномерности распределения доходов между субъектами взаимоотношений. Предложенный проектный анализ с использованием коэффициента Джини позволяет оценить степень неравномерности концентрации выгод по участникам партнерства в соответствии с понесенными ими затратами. Масштабный проект по производству нанокерамики в г. Новосибирске, на примере которого апробирована методика, демонстрирует сбалансированный механизм государственно-частного партнерства с диапазоном коэффициента Джини от 0,141 до 0,223 в зависимости от группировки участников. Накопление эмпирических оценок и успешных практик сбалансированного партнерства государства и частного бизнеса в промышленности даст возможность принимать решения с учетом паритетного и справедливого распределения ограниченных ресурсов общества.
Ключевые слова:
государственно-частное партнерство, научно-технологические консорциумы, проектный анализ, коэффициент Джини, финансовая и общественная эффективность, анализ выгод и затрат, высокотехнологическое производство, промышленные проекты
Скачивания
Данные скачивания пока недоступны.
Литература
Внешнеэкономическое измерение новой индустриализации России / под ред. Е. Б. Ленчук. СПб.: Алетейя, 2015. 286 с.
Государственно-частное партнерство как инструмент поддержки инноваций / под ред. И. А. Соколова. М.: Дело, 2012. 516 с.
Исследование «Государственно-частное партнерство в России 2016–2017: текущее состояние и тренды, рейтинг регионов». М.: Ассоциация «Центр развития ГЧП», 2016. 32 с.
Новая индустриализация: драйверы и перспективы / под ред. В. И. Супруна. Новосибирск: ФСПИ «Тренды», 2016. 210 с.
Отраслевые инструменты инновационной политики / отв. ред. Н. И. Иванова. М.: ИМЭМО РАН, 2016. 161 с.
Public-private partnership, government guarantees, and fiscal risk. Prepared by a staff team. Washington D. C.: International Monetary Fund, 2006. 90 p.
Khodarev A. S. Gosudarstvenno-chastnoe partnerstvo v sfere vodosnabzheniia i vodootvedeniia (iz opyta predpriiatii Rostovskoi oblasti) [Public-private partnership in the field of water supply and sanitation (from the experience of enterprises in the Rostov region)]. Vestnik Finansovogo un-ta, 2008, no. 2, pp. 109–117. (In Russian)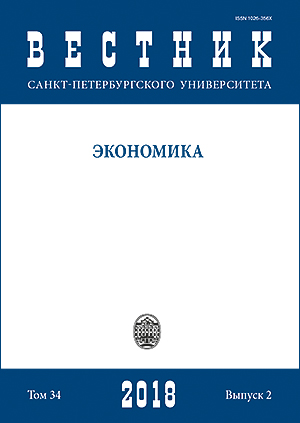 Как цитировать
Горбачева, Н. В. (2018). Оценка экономического неравенства в государственно-частных партнерствах в промышленности. Вестник Санкт-Петербургского университета. Экономика, 34(2), 317-342. https://doi.org/10.21638/11701/spbu05.2018.206
Раздел
Экономика фирмы, производственный менеджмент и управление цепочками поставок
Статьи журнала «Вестник Санкт-Петербургского университета. Экономика» находятся в открытом доступе и распространяются в соответствии с условиями Лицензионного Договора с Санкт-Петербургским государственным университетом, который бесплатно предоставляет авторам неограниченное распространение и самостоятельное архивирование.