Переход к «зеленой» экономике на примере инновационного развития регионального лесного комплекса
Галина Алексеевна Князева

Сыктывкарский государственный университет им. Питирима Сорокина, Российская Федерация, 167001, Сыктывкар, Октябрьский пр-т, 55

Нина Юрьевна Кирушева

Сыктывкарский государственный университет им. Питирима Сорокина, Российская Федерация, 167001, Сыктывкар, Октябрьский пр-т, 55
Аннотация

В статье раскрывается роль лесного сектора в решении комплекса задач, связанных с переходом страны к «зеленой» экономике, выявлены барьеры, стоящие на пути его «позеленения» и определены перспективные направления инновационного развития. Авторами статьи выдвигается  гипотеза, согласно которой в качестве важного инструмента реализации принципов «зеленой» экономики на региональном уровне служит создание индустриального парка лесо- промышленной специализации. Справедливость данной гипотезы верифицируется на примере индустриального парка, планируемого к размещению в Республике Коми. С учетом критериев оценки прогресса лесного сектора на пути перехода к «зеленой» экономике и сложившихся в лес- ном секторе региона проблем предложен перечень экономически и технологически оправданных мероприятий по формированию экоиндустриального парка. Их реализация призвана сыграть важную роль в развитии перспективных «зеленых» технологий лесопереработки, обеспечивающих углубление переработки древесины и утилизацию всех производственных отходов. Рассчитаны показатели экономической эффективности данного комплексного проекта, обладающего значительными природоохранными и социальными результатами. Показано, что подобные экоиндустриальные парки, которые целесообразно организовывать по сетевому принципу, способны играть значимую роль в качестве элемента инновационной инфраструктуры, одновременно способствующего повышению конкурентоспособности регионально сту социального благосостояния населения. Библиогр. 57 назв. Рис. 2. Табл. 2.
Ключевые слова:
устойчивое развитие, «зеленая» экономика, индустриальный парк, лесная политика, инновационные технологии лесопереработки
Скачивания
Данные скачивания пока недоступны.
Литература
Захарова Т. В. «Зеленая» экономика и устойчивое развитие России: противоречия и перспективы // Вестн. Томского гос. ун-та. Экономика. 2015. № 2 (30). С. 116–126.
Лаврикова Ю. Г., Малыш Е. В. Зеленая экономика в кластерном развитии // Региональная экономика: теория и практика. М., 2014. № 36 (363). С. 48–59.
Лебедев Ю. В. Эколого-экономическая оценка лесов Урала. Екатеринбург: Уральское отделение РАН, 1998. 214 с.
Онищенко М. В. Роль государства в развитии «зеленой экономики» // Научный журнал Кубанского гос. аграрн. ун-та. 2014. № 102(08). С. 919–932.
Пахомова Н. В., Рихтер К. К., Малышков Г. В. Структурные преобразования в условиях формирования «зеленой» экономики: вызовы для российского государства и бизнеса // Проблемы современной экономики. 2012. № 3 (42). С. 7–15.
Пахомова Н. В., Рихтер К. К., Малышков Г. Б. Стратегия устойчивого развития и переход к зеленой экономике: обновление приоритетов и механизмов // Вестн. С.-Петерб. ун-та. Сер. 5. Экономика. 2013. Вып. 4. С. 35–54.
Пахомова Н. В., Ткаченко Д. С. Институты поддержки инновационной деятельности в России: логика формирования и современное состояние // Вестн. С.-Петерб. ун-та. Сер. 5. Экономика. 2014. Вып. 2. С. 87–105.
Прешкин Г. А. Теоретико-методологические основы оценки лесов // Известия Урал. гос. экон. ун-та. 2006. № 5(17). С. 163–169.
Разработка концепции формирования и развития индустриального парка в лесопромышленном комплексе на территории Республики Коми. 1 этап: отчет о НИР / ФГБОУ ВПО СыктГУ; рук. Г. А. Князева; исполн.: Н. А. Волохов [и др.]. Сыктывкар, 2013. 119 с.
Унтура Г. А. Трансформация технопарка в инновационный центр // Вестн. С.-Петерб. ун-та. 2014. Сер. 5. Экономика. Вып. 4. С. 76–102.
Цвирко С. Э. Оценки эффективности стратегии развития России в условиях политико-экономической нестабильности // Экономика природопользования. 2015. № 3. С. 17–27.
Эколого-экономический индекс регионов РФ. Методика и показатели для расчета / под ред. А. Я. Резниченко, Е. А. Шварц, А. И. Постнова. WWF России, РИА Новости. М., 2012. 152 c. URL: wwf.ru/data/publ/index.pdf (дата обращения: 02.12.2015).
Яндыганов Я. Я. Экологическое воспроизводство. Екатеринбург: Уральское отделение РАН, 1998. 288 c.
Яшалова Н. Н. Оценка уровня экологизации экономики региона // Экономика природопользования. 2015. № 3. С. 67–75.
Falcke C. O. Industrial park: principles and practice // Journal Economic Cooperation Among Islamic Countries 20. 1999. N 1. P. 1–10. URL: www.sesric.org/fi les/article/161.pdf (дата обращения: 04.12.2015).
Perez C. Unleashing a golden age aft er the fi nancial collapse: Drawing lessons from history // Environmental Innovation and Societal Transitions. 2013. N 1. P. 9–23.
Ploeg van der R., Venables A. J. Harnessing windfall revenues: optimal policies for resource-rich developing economies // The Economic Journal. 2011. Vol. 121. Issue 551. P. 1–30.
Prins K. Measuring progress of the forest sector towards a green economy: some proposals. Metsä, 2013.
Ekaterinburg, Ural'skoe otdelenie RAN Publ., 1998. 214 p. (In Russian)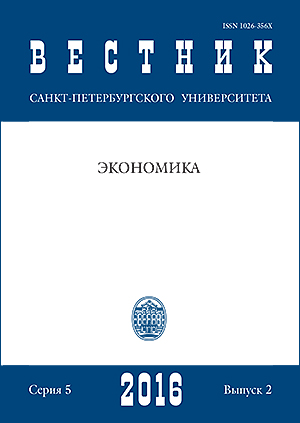 Как цитировать
Князева, Г. А., & Кирушева, Н. Ю. (2016). Переход к «зеленой» экономике на примере инновационного развития регионального лесного комплекса. Вестник Санкт-Петербургского университета. Экономика, (2), 119 - 145. https://doi.org/10.21638/11701/spbu05.2016.207
Раздел
«Зеленая экономика» и экологический менеджмент
Статьи журнала «Вестник Санкт-Петербургского университета. Экономика» находятся в открытом доступе и распространяются в соответствии с условиями Лицензионного Договора с Санкт-Петербургским государственным университетом, который бесплатно предоставляет авторам неограниченное распространение и самостоятельное архивирование.