Techniques, Technologies, and Politics of Crisis and Post-Crisis Economics: Anglo- American Macroeconomics and Alternatives
Jeffrey K. Hass

Принстонский университет, Princeton, NJ 08544; Университет Ричмонда, 410 Westhampton Way University of Richmond, VA 23173; Санкт-Петербургский государственный университет, Российская Федерация, 199034, Санкт-Петербург, Университетская наб., 7–9
Аннотация
В статье предпринята попытка критического осмысления дебатов и теорий применительно к кризисной экономике 2008 г. и последующих росте и стагнации. Помимо официальных публикаций, в данной статье анализируются также блоги известных экономистов — ключевых участников публичного обсуждения экономической политики. В рамках общей логики экономической социологии и политической экономии, в том числе рассматривая глубинные основы
экономической практики (прежде всего, власть и культуру), автор исследует три вопроса о теоретических основах и свойствах посткризисного роста или отсутствия такового: 1) инструменты: дискуссии экономистов сосредоточены прежде всего на имеющихся в распоряжении государства и других субъектов инструментах (политики и т. п.) для воздействия на экономику в ущерб критическому подходу; 2) методы: в спорах вокруг экономики обычно недостаточно
внимания уделяется институциональным инструментам и методам воздействия на экономику, что ограничивает применение экономических теорий и мнений ученых, а также способствует доминированию про-рыночного направления в экономической науке; 3) политика: экономисты комментируют политику при обсуждении инструментов экономического регулирования, а также сами инструменты; при этом политика всегда остается некой данностью (endogenous) в дискуссиях, в теории и в моделях, порождая фатальную слабость экономической теории, что видно на протяжении десятилетий.
В этой связи в статье анализируется альтернативная парадигма, основанная на политической экономии и экономической социологии, предметом которых являются (и таким образом становятся эндогенными) институты, государства и элиты, логика капитализма и власти. В заключительной части статьи в рамках данной парадигмы даны предложения, касающиеся кризисной и посткризисной экономики. Библиогр. 76 назв.
Ключевые слова:
кризис 2008, макроэкономика, кейнсианство, Кругман, политическая экономия, экономическая социология, теория поля
Скачивания
Данные скачивания пока недоступны.
Литература
Blanchard, Olivier, Giovanni Dell'Ariccia, and Paolo Mauro. 2010. "Rethinking Macroeconomic Policy." IMF Staff Position Note SPN/10/03.
Helmke, Gretchen. 2010. "The Origins of Institutional Crises in Latin America." American Journal of Political Science 54: 737–750.
Veld, Jan I. 2013. "Fiscal Consolidations and Spillovers in the Euro Area Periphery and Core." European Economy Economic Papers no. 506.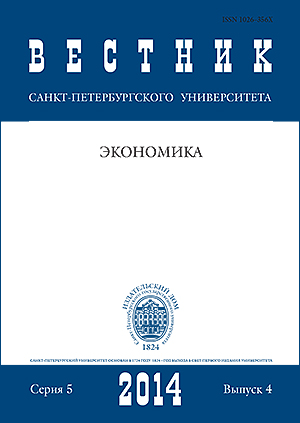 Как цитировать
Hass, J. K. (2014). Techniques, Technologies, and Politics of Crisis and Post-Crisis Economics: Anglo- American Macroeconomics and Alternatives. Вестник Санкт-Петербургского университета. Экономика, (4), 004 - 027. извлечено от https://economicsjournal.spbu.ru/article/view/2025
Раздел
Экономическая теория в историческом развитии
Статьи журнала «Вестник Санкт-Петербургского университета. Экономика» находятся в открытом доступе и распространяются в соответствии с условиями Лицензионного Договора с Санкт-Петербургским государственным университетом, который бесплатно предоставляет авторам неограниченное распространение и самостоятельное архивирование.