Trade Freedom and Revenue from Trade Taxes: a Cross-Country Analysis
Olena Sokolovska

НИИ фискальной политики Государственной фискальной службы Украины, Национальный университет государственной фискальной службы Украины, 31, Universitetskaya street, Irpin, Kyiv region, 08201, Ukraine

https://orcid.org/0000-0002-4259-3786
Аннотация
Либерализация внешней торговли как следствие постепенной отмены тарифных и нетарифных барьеров, в целом ведет к сокращению налоговых доходов государства. Для оценки взаимосвязи между уровнем свободы торговли и дохода от внешнеторговых налогов в статье были использованы данные по 104 странам мира за 2012 г. С целью дальнейшего анализа рассматриваемые страны были распределены на две группы в зависимости от их уровня дохода согласно классификации Всемирного банка. Также анализируется взаимосвязь между уровнем свободы торговли и доходом от внешнеторговых налогов для стран, богатых природными ресурсами. Результат показал значимую отрицательную корреляцию между уровнем свободы торговли и доходом от внешнеторговых налогов для стран с низкими доходами и доходами ниже средних, что позволило сделать выводы об экономической политике стран на различных этапах либерализации внешней торговли. Библиогр. 26 назв. Табл. 2. Ил. 4.
Ключевые слова:
внешняя торговля, налоги на внешнюю торговлю, налоговый доход, свобода торговли, развивающиеся страны, страны, богатые природными ресурсами
Скачивания
Данные скачивания пока недоступны.
Литература
Литература на русском языке

References in Latin Alphabet

Translation of references in Russian into English
Auboin M. International Trade in the Global Economic Crisis [Mezhdunarodnaia torgovlia v period global'nogo ekonomicheskogo krizisa].Vestnik of Saint-Petersburg University. Series 5. Economics, 2012, issue 3, pp. 75–81. (In Russian)
Akin C., Aytun C., Aktakas B. The impact of economic freedom upon economic growth: an application on different income groups.Asian Economic and Financial Review, 2014, vol. 4(8), pp. 1024–1039.
Batuo M., Asongu S. The Impact of Liberalisation Policies on Inequality in Africa.MPRA Paper, no. 43344, 2012. 38 p.
Baunsgaard T., Keen M. Tax Revenue and (or?) Trade Liberalization.Journal of Public Economics, 2010, vol. 94, issue 9–10, pp. 563–577.
Beheshtitabar E., Irgaliyev A. The Impact of Economic Freedom on FDI Inflows to Developing Countries: The Case of the Middle East.Jonkoping University, 2008. 29 p.
Bergstrom T. Capturing oil rents with a national excise tax.American Economic Review, 1982, no. 71, pp. 194–201.
Collier P., Venables A. Illusory revenues: Import tariffs in resource-rich and aid-rich economies.Journal of Development Economics, 2011, vol. 94, no. 2, pp. 202–206.
Cottarelli C.Mobilisation des recettes dans les pays en developpement. Fonds Monetaire International. Departement des fi nances publiques, 2011. 99 p.
Eckermann F., Golde M., Herczeg M., Mazzanti M., Montini A., Zoboli R. Resource taxation and resource efficiency along the value chain of mineral resources.European Topic Centre on Sustainable Consumption and Production. ETC/SCP Working Paper, 2012, no. 3. 63 p.
Emara N. Quantitative Evaluation of the Struggle of Economic Performance: The Case of MENA Countries.Topics in Middle Eastern and African Economies, 2014, vol. 16 (2), pp. 184–191.
Feenstra R. Advanced International Trade: Theory and Evidence. Princeton: Princeton University Press, 2003. 496 p.
Gaalya M. Trade Liberalization and Tax Revenue Performance in Uganda.Modern Economy, 2015, no. 6, pp. 228–244.
Gorlach V., Le Roux P. The Impact of Economic Freedom on Economic Growth in the SADC: An Individual Component Analysis.Economic Research Southern Africa, 2013. Working Paper no. 327. 21 p.
Guide on Resource Revenue Transparency. International Monetary Fund (IMF), 2007. 73 p.
Konan D., Maskus K. Joint trade liberalization and tax reform in a small open economy: the case of Egypt. Journal ofDevelopment Economics, 2000, vol. 61, pp. 365–392.
Krueger A. O. Th e political economy of the rent-seeking society. Th e American Economic Review, 1974, vol. 64 (3), pp. 291–303.
La mobilisation fi scale dans les pays de la Zone franc: principaux enseignements sur longue periode.Rapports annuels de la Zone franc, 2016. Banque de France 2016, pp. 106–115.
Lundstrom S.Effects of economic freedom on growth and the environment — implications for cross-country analysis, Goteborg University, 2003, Working Paper no. 115. 35 p.
Mahmood K.Trade Liberalization and Economic Growth: A Case Study of Selected SAARC Member Countries. Islamabad: PRIME Institute, 2014. 50 p.
Mankiw N. G.Principles of Economics. Cengage Learning, 2014. 880 p.
Mansour M.Tax Policy in MENA Countries: Looking Back and Forward. IMF, 2015, Working Paper no. 15/98. 51 p.
Mushtaq S., Bakhsh K., Hassan S. Estimating impact of trade liberalization on tax revenue in Pakistan.Journal of Agriculture & Social Sciences, 2012, no. 8, pp. 148–150.
Naanwaab C., Diarrassouba M. Th e Impact of Economic Freedom on Bilateral Trade: A Cross-Country Analysis.International Journal of Business Management and Economic Research, 2013, vol. 4 (1), pp. 668–672.
Norhazlin I. Income Inequality, Economic Freedom and Economic Growth.European Journal of Economics, Finance and Administrative Sciences, 2010, no. 25, pp. 144–157.
Nwosa P., Saibu M., Fakunle O. Th e Effect of Trade Liberalization on Trade Tax Revenue in Nigeria.African Economic and Business Review, 2012, vol. 10, no. 2, pp. 28–43.
Pogorletskiy A. I., Sutyrin S. F. Perspectives of Forming the Global Tax Regulation System [Perspektivy stanovleniia sistemy global'nogo nalogovogo regulirovaniia].Vestnik of Saint-Petersburg University. Series 5. Economics, 2010, issue 2, pp. 47–59. (In Russian)
Pupongsak S.
The effect of trade liberalization on taxation and government revenue
. University of Birmingham. Department of Economics College of Social Sciences, 2009. Available at:
http://etheses.bham.ac.uk/837/1/Pupongsak10PhD.pdf
(accessed 04.02.2016).
Rivera B., Romer P. Economic integration and endogenous growth.The Quarterly Journal of Economics, 1999, vol. 106 (2), pp. 531–555.
Trade policy and natural resources.World Trade Report 2010. Trade in natural resources. WTO, 2010, pp. 112–159.
Trade theory and natural resources.World Trade Report 2010. Trade in natural resources. WTO, 2010, pp. 72–111.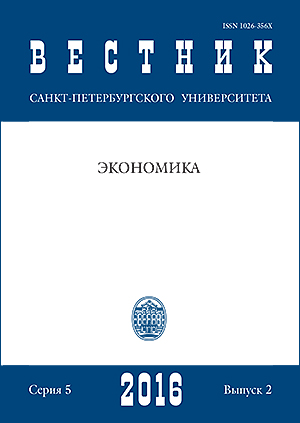 Как цитировать
Sokolovska, O. (2016). Trade Freedom and Revenue from Trade Taxes: a Cross-Country Analysis. Вестник Санкт-Петербургского университета. Экономика, (2), 052 - 067. https://doi.org/10.21638/11701/spbu05.2016.203
Статьи журнала «Вестник Санкт-Петербургского университета. Экономика» находятся в открытом доступе и распространяются в соответствии с условиями Лицензионного Договора с Санкт-Петербургским государственным университетом, который бесплатно предоставляет авторам неограниченное распространение и самостоятельное архивирование.